Put your nesting urges to good use and do these 30 things before your baby comes! You'll be happy to have something to do to pass the time in the third trimester.
You are finally in the third trimester of your pregnancy! The days of morning sickness are (hopefully) long behind you. They may have been replaced by wacky hormones and nesting urges now. Your body does so much work during this last period and this may have you feeling very tired all the time. Don't forget to continue taking your vitamins and applying your belly butter everyday!
THIRD TRIMESTER CHECKLIST
Have a Baby Shower
If you planned a baby shower, this is the time to have it. Your bump is out and proud and will photograph well in all the pictures you take with your loved ones. Pick out a fun maternity dress or two or three. Costume changes are fun. Indulge yourself. Wear some cute shoes and have practical ones on hand too.
Do A Maternity Shoot
If you booked a maternity shoot, you should aim to have it before you are 35 weeks pregnant. If you are having multiples, before you are 28weeks is a great time for your shoot. You would want your bump up and before your baby "drops". It is worth the expense if you can fit it into your budget.
Write Your Birth Plan
Your birth plan doesn't have to be super long and detailed. You basically just need an outline of your preferences regarding your birth and postpartum care. A few things you can include are: your birthing position, pain relief, who you want in the room with you, circumcision, if baby should be taken to the nursery, breastfeeding/pumping/formula plans, etc.
Take A Breastfeeding Class
Before having to do it, a lot of people either do not think about breastfeeding or think it is self-explanatory and comes naturally. You put the baby to your breast, it suckles, milk comes out and goes into their bellies. Well, not exactly! It involves a lot more than that. And who knew maintaining a healthy supply could be so hard?
The best way to set yourself up for success is if breastfeeding is a priority for you. So if you signed up for a class, follow through and take it!
Declutter And Organize
Getting organized is important in all three trimesters. You aren't going to get it all done in one period. Your new tenant moves in with a lot of baggage and requires a ton of space. Don't worry about feeling helpless or overwhelmed. Your mom instincts will kick in and you'd get things done one way or another. But getting a jump on it will free up your time for later. It's a lot more fun organizing your new baby's stuff anyways.
Stock Up On Household And Baby Essentials
One of the best ways to prepare for your first few weeks at home with your baby is to stock up on household essentials. Toilet paper, kitchen rolls, light bulbs, dish soap, laundry detergent, shampoo, conditioner, bath wash, toothpaste, etc. Make a list and get all you need at least a week before your due date.
Finish Putting Nursery Together
This might be one of the most exhausting and exciting things to do during your pregnancy. It makes the thought of bringing your baby home and having him with you all the time all the more real. They may or may not spend a lot of time in there, depending on your child's personality and it may be more for you than for them. But it is satisfying to have a place for everything and be organized.
YOU MIGHT ALSO LIKE:
Put Together Breastfeeding Nook
Are you planning to breastfeed or pump? You will need a breastfeeding nook. Trust me! You will be glad to have a separate feeding area that isn't in your bed when your baby has good sleeping habits. It will also be convenient to have everything you need for feeding in one area. Your breast pump, milk storage pouches, nursing pads, nipple balm, a clean extra nursing bra, water bottle, a book, burp cloths, etc.
Wash Baby's Clothes And Put Them Away
Whether they are brand new or hand-me-downs, it is best to wash all baby clothes before hanging them up or putting them away in drawers. Babies have sensitive skin, and besides, it's better to take the hygienic precaution than to risk it when it comes to your newborn.
Read Up On Safety And Babies
Everything is scary when you are trusted to come home with a tiny human who only eats, cries, poops and sleeps. One of the biggest causes of infant death is SIDS (Sudden Infant Death Syndrome). And it is preventable. You have time in your third trimester to do all your research before your little one gets here.
Take Birthing Class
Your hospital/birthing center may offer free birthing classes which you should take advantage of. You can also browse YouTube for some videos if your schedule is too hectic for group classes.
Download And Practice Using A Contraction Timer App
If you are like me and can't tell time to save your life, a contraction timer app is what you need. How does this work? You simply press a button when your contraction starts and again when it ends. Very simple! This way, you can keep track of how far apart your contractions are and you don't go to the hospital in false labor ( this is a thing, guys!)
Put Together Your Postpartum Care Kit
Your hospital/birthing center most likely will give you some essentials while you are there and maybe even when you are going home. But what if they don't? It might be helpful to have a few things like some perineal spray, witch hazel pads, postpartum pads, herbal bath teas and extra undies in your bag.
Have Your Baby's Name Chosen
Have you settled on your baby's name yet? If you live in a country like Denmark, you have until your baby turns 6 months to register his name. Most countries however require a baby's name before mum and bub sign out of the hospital.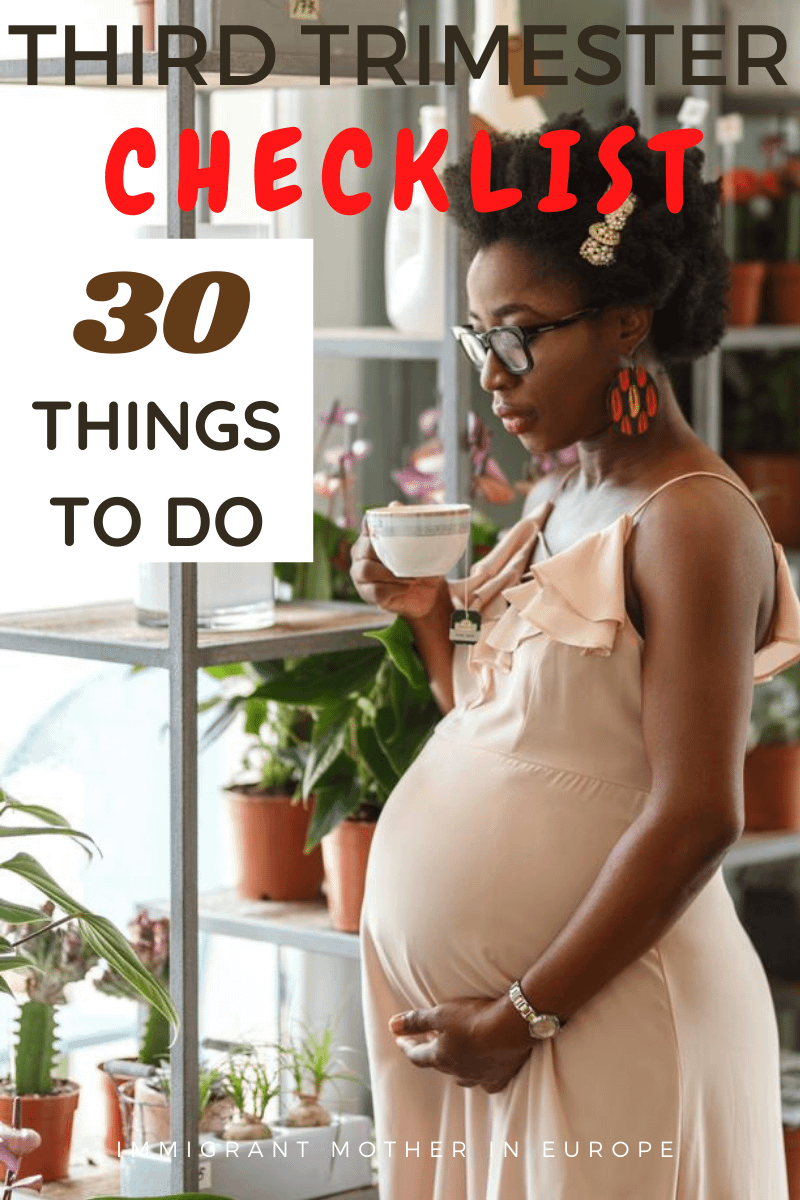 Prepare For Maternity Leave
Whether you are working or yes (because running a household doesn't magically happen), you'll still want to plan your "maternity leave". If you already have kids, you'd want to plan out easy activities that they can do during independent time or with minimal supervision from family members or friends who offer to help. This would give you some time to recharge and actually "sleep as baby sleeps". You should take into account everything you do in a normal week/month and do your best to prepare for that once the baby is born.
Have Your Freezer Meals Prepared
Freezer meals will SAVE YOUR LIFE once baby is home. Make sure you put the meals in portion sizes so you don't waste the food by defrosting and freezing over and over again.
Pack Your Diaper Bag
You'll find that it is always easier to have a packed diaper bag on hand. What should you have in it? I'm glad you asked! Diapers, wipes, cloth to lay your baby on, burp cloths, pacifiers, baby toys, extra outfits, thermometer, hand sanitizer, small trash bags for diaper disposal and diaper rash ointment, for starters.
Pack Your Hospital Bag
Have your hospital bag packed and by the door ( or at least, a list of items that go in it written down to be quickly packed). Some things to consider having in your bag are your birth plan, camera, phone, iPad, iPod, comfy socks, toiletries, hair brush, hair ties & bobby pins, robe & nightgown, comfortable clothes, nursing bras & pads, going home outfit for you & baby, baby's first outfit, swaddling blankets, diapers, wipes and burp cloths.
Tour The Hospital
It is usually possible to set up a tour of the hospital/birthing center. This allows you to familiarize yourself with the place and process you would be going through when it is time. Trust me, everything would be a blur once labor starts and all you can focus on are the contractions, (the pain) and the excitement of having your baby.
Schedule Newborn Photos
Newborn photos are worth it, even though they may be expensive. There's a very short window where your baby will be young enough to get the perfect shots. Make sure you book with someone who has experience with handling babies.
Choose And Confirm Pediatrician
Your baby will likely need a pediatrician from the day he is born so now is the time to settle on one and finalize all you need to be a client. If you already have kids, this is easy to cross of your list since all your kids will most likely see the same pediatrician.
Keep An Eye On Your Symptoms
Your body is doing more work in these last three months than you could imagine. It is therefore important to stay in tune with your symptoms in your third trimester. Watch for a decrease in movement, strange pains, swelling, etc. and always keep your midwife and/or doctor informed. As you get closer to your due date, look out for signs of early labor.
Buy A Baby Book
There are so many ways to document your pregnancy journey; and a baby book is an easy option. You can also try digital versions/apps you can find in the AppStore.
Install Baby's Car Seat
Now is the time to install your car seat. Like my husband says, "Babies come on their birthday!". You wouldn't want to be surprised when your water breaks early and you aren't ready to bring baby back home with you. Besides, installing it in the last weeks of your pregnancy gives you time to figure out how the contraption works, if you are unsure. It always seems so simple until you are actively trying to install it.
Download An Infant Tracking App
I'm a sucker for tech and apps. I mean, I have over 300 on my phone at any given time. There are so many different baby, breastfeeding and tracking apps available and it can all be overwhelming. My top choices will have to be the Glow Baby app, Wonder Weeks app, Back Up app and Ovia Parenting.
Pamper Yourself
Remember to make time for yourself. In a few weeks you'll be on baby duty and there will be barely anytime for you to properly enjoy a pamper session. So take a trip to the spa, or go check into a hotel for a night or two. You'll be happy you did. Put your feet up, take care of your body. Reward it for all the hard work it is doing. Nothing beats a relaxing massage in your third trimester.
Rest
You might think you can make it through this last trimester like the one before. Truth is, you aren't going to half as much energy these last few months like you did in the second trimester so listen to your body and rest when you need to. Chances are you wouldn't be able to escape at least one midday nap per day at this stage.
Drink Water Frequently
During the duration of your pregnancy, your blood volume increases by 50%. You need all the nutrients you can get. That is why you are advised to eat healthy, take your vitamins and drink water. During pregnancy, you also urinate a lot more frequently and you need to replenish the fluids you are losing. Water is good. Drink as much as you can.
Exercise Consistently
Still going on 30min daily walks? Or did you do yoga? Pilates? Zumba? Keep at it. Your body will thank you when it's time for labor. Haven't started yet? It's not too late. You still can. Throw in some squats or bouncing on an exercise ball when you are closer to your due date. It will help loosen your pelvic area and make both bub and mum comfortable.
Put Baby's Pram Together
There's nothing worse than coming home and having to figure out how to put together your baby's pram with him in the room screaming. It is enough to cause any mom to have a meltdown. Try assembling your baby's pram a few times before you are due. Especially if it is the type that has to be disassembled and assembled every time you load it into your car. Practice makes perfect.