When the worldwide panic around the novel coronavirus (COVID-19) started, I was on vacation with both kids in Ghana. We had taken a trip to visit my family. Little did I know that I would be in quarantine at home. With my kids. For most of the time.
With two littles under 4 years old, I had to think about how best to be preventative as opposed to curative. I also had to take into account the amount of time I would be sequestered indoors with both boys and still feel all my love and adoration for them at the end of the day.
Here's a list of 15 things we do to keep us from going berserk during our self-imposed isolation.
1. STAY AT HOME
This is the most important thing during this whole pandemic, and I cannot emphasise it enough. Social distancing is a term that has been thrown around a lot lately. What it means is that you take a break from social interactions that require you to be within 2meters of another person. You can still interact with your neighbours, for example, across your fence. You just can't sit or stand within 2 meters of each other and socialize.
Staying at home more these days also ensures that you protect yourself and your family as much as possible from contracting this virus. Think of social distancing as a firebreak. Once it is in effect, it slows down the progression of viral infection/contraction in your community.
We are living in times where the safety of each man rests on the actions of not just himself, but also of his neighbours, family, strangers, and community.
Let us stay home more, let us slow the spread.
2. WASHING HANDS REGULARLY.
This is the most important rule in my house. Thanks to Veronica Bekoe, the Veronica Bucket is something we can rely on. Whether we are at home and able to use the washroom or dashing to the supermarket or receiving guests, there is a way to wash hands under running water and with soap. I am so extra particular about regular hand washing that my oldest picked up the habit and started requesting hand-washing without prompt. Proud Mother Moment!
Whenever someone came by the house to visit my mother, I instructed them to wash their hands before even touching the doorknob to get into the house. The Veronica Bucket was a lifesaver. Placed outside the house on the porch, guests could wash and dry their hands before stepping foot into the house. Thus, washing of whatever germs they were carrying and protecting my children and household.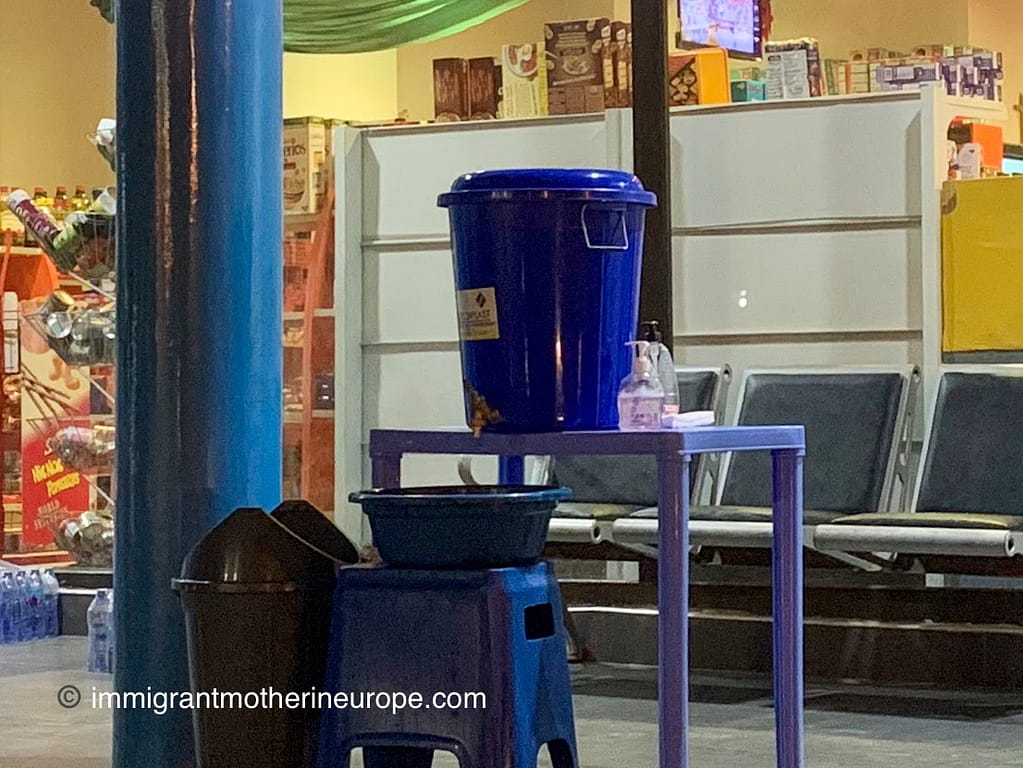 3. DISINFECTING WIPES AND GEL
What do we do when there is no running water and soap readily available? Sanitizing gel and disinfecting wipes to the rescue. Although these have been in short supply ever since the panic went into high gear, a mom always has a tube or two in her diaper bag because…. well, kids are messy! A favourite in my household is the disinfecting wipes from Clorox.
4. ACTIVITY SHEETS
As much as adults need mental stimulation, your children need it even more. Activity sheets are a big hit in my household. Varied activities stimulate my son's mind and drive away boredom. He also doesn't really notice how long we spend indoors when he has different activities to occupy his day.
5. LONG WALKS
14 days in the minimum or a month, or two, is a long time to stay cooped up indoors. Self-isolating or quarantine does not mean staying locked up in your house until the pandemic dies down. It means avoiding close contact with others. We take long walks with the kids, avoiding being within 3 meters of the neighbours and yet have ample time out in nature so the children can get some air and run around. During the day, we also encourage them to go out into the backyard and play with their toys, picnic-style, in the grass.
We find that, in as much as the children need some fresh air and exercise, we the parents need it too. These daily long walks do us a world of good.
6. LOGIC GAMES
Our favourite logic game is Flow Free from the iOS or android AppStore. There are other variations of the game, but this is the version that my 3-year-old can handle. He can play it for hours on end if allowed to. There are many puzzle and logic games on the Appstore that you can download for your children to keep them busy, and also to train their brains. Screen time isn't always a bad thing.
7. DOING CHORES
This is a good time as any to introduce your children to the world of chores and carrying their share of the load of running a household. My son helps with loading and unloading the dishwasher, loading and unloading the washing machine, helping me dry the clothes on the clothes rack, helping to make dinner, clean up his toys after playing with them, to name a few.
8. ARMCHAIR TRAVEL
An armchair travel is a virtual way to explore places you otherwise would not be able to. Check out Travel and Leisure for some ideas.
9. BOARD GAMES
Scrabble, Ludo, Monopoly, Adi/Oware, Snakes and Ladders, Checkers, Chess and Clue are all games you can play as a family to bond and pass time. There isn't a shortage of board games. Whether you play them concretely or through apps, they are a great way to create some new memories and learn something new.
10. CARD GAMES
There is an abundance of card games that you and your family can engage in. Gin, 500, Solitaire, Uno, Rummy, Blackjack, Crazy Eights and Poker, among others.
11. PLAN AND EXECUTE THEMED MEALS
Hold a Mexican night.. or week. How about a continent tour through food. Your children will be happy to learn about other cultures while trying new delicacies.
12. HOLD FAMILY MOVIE MARATHONS
Netflix has a lot of content that I am pretty sure no one has watched all of. In addition, there are other subscription services like Apple TV+, HBO, Disney, Cmore, Hulu and Hayu. Take advantage of this time off work and cuddle up on the couch or in bed with your kids and some popcorn and watch movies on end. This is a great time to make some memories.
13. MAKE A FAMILY QUARANTINE SCRAPBOOK
For the crafty families out there, this is a great idea. Take tons of pictures to document the activities you carry out during this period of isolation and create a scrapbook together as a family. You will be glad for this after this period is over.
14. SPRING CLEANING
What is a great to do when you are in quarantine at home? Why, spring clean of course! This could be a fun exercise to do with your children. They would love to discover all the things you, as a family, once thought was priceless and could not live without. Choose a room at a time and declutter thoroughly before moving to the next one.
This activity also gives you a good excuse to disinfect your entire house thoroughly.
15. RECONNECT WITH ESTRANGED FAMILY AND FRIENDS
There is no time like now to reconnect with estranged loved ones. We are confronted with our fallible mortality in times like these being in quarantine is a great excuse to pick up the phone and reach out to people you once cared deeply about but no longer communicate with.
We are in trying times, remember to stay indoors as much as possible and practice good personal hygiene until this blows over. and even after. After all, this too shall pass.