What's a mom tribe? Why is having one important? Who can be in yours and how do you find them?
We find ourselves in a world where we are increasingly having babies away from our hometowns. This often means, without the support of friends we grew up with and/or family. It is exciting to live in a new place and explore new and exotic places and have a better standard of living for yourself and your family. But it can also be very daunting. Especially at a time in your life when there are so many new changes.
The early months of motherhood can be very isolating. And it can be extremely difficult to build a strong support network. This is especially true for a first time mom who is stuck at home with a newborn. Couple this with a terrifying fear of going out with the new baby.
I moved to Denmark in 2015. And so, I had all my children here and away from family and the few friends I had. Being one of the first among my friends to have a child was interesting. And the additional pressure of balancing a full time university program and a newborn baby was hard. This was especially so in making and maintain any friendships at all.
The Danish healthcare system is terrific about creating mom groups (a mom tribe) in communities for mothers who've had babies within three months of each other. But this requires a minimum of 4 mothers so sometimes one doesn't get lucky. Of course, these mom groups also rely on the moms to keep it going and sustain them. And most often than not, they die off within the first year of parenthood.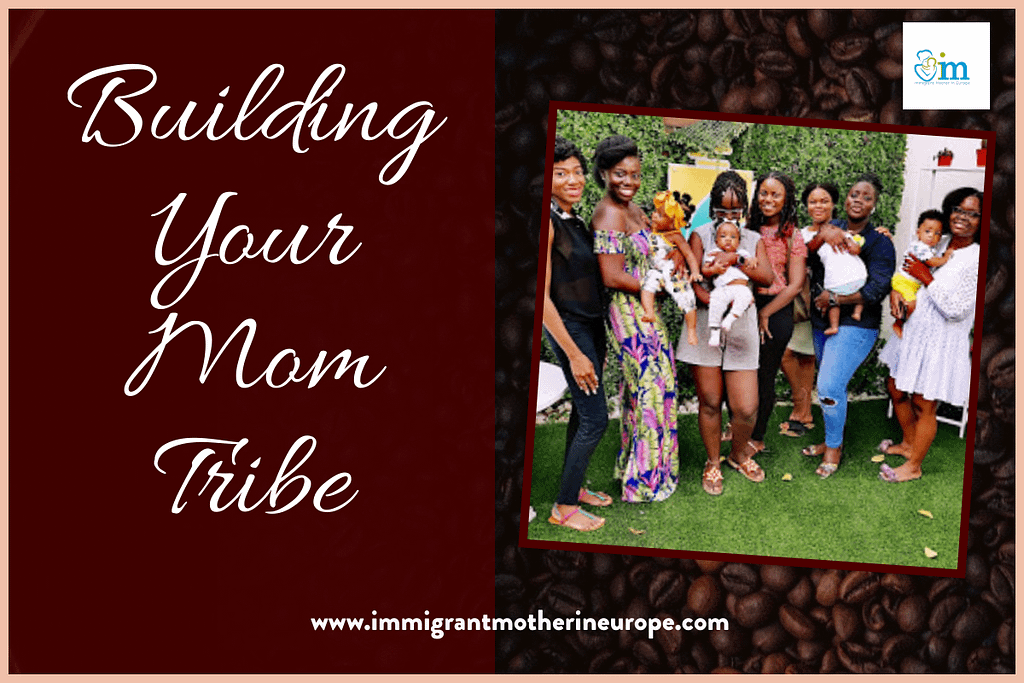 If there is one thing I have really realised since becoming a mom, it is the necessity of finding a community of like-minded moms going through this same crazy journey as I am. And the importance of building a mom tribe by yourself if you can not find an existing one.
My mom tribe have become my go-to. And although we are in different countries on different continents, we check in with each other everyday. We catch up in our WhatsApp group and have conversations that I've never had with any of my other friends. It has become my go-to place to share the hard and easy days. We commiserate about the daily craziness and ask to be prayed for. They advice me and hold me up when I feel like I can't go on anymore. And sometimes, just laugh with me at the little but important things our kids do during the day.
What I realised was that, the small number of friendships I had before kids didn't seem to be as easy to sustain and keep going once I became a mom. My priorities had changed and most of them could not understand why. I didn't have to cut them out of my life, but I also could not have the same kind of friendship with them as before. It is life. It happens. And that is fine.
Nothing beats having a mom tribe that understands why a video of my son tasting his first McMuffin is important to record and share, or why daddy's loud footsteps around the house, and up and down the stairs after 9pm, are grounds for divorce (kidding……not kidding).
5 Ways To Build Your Mom Tribe
So what if you are like me and need a mom tribe and there isn't one readily available you can join? Why build one!
Facebook is a good place to start. If you are part of a community facebook group, your search starts there. I live on an island and we have many facebook groups ranging from 'for sale' groups to bridge groups. Posting in one such group is an easy way to find moms in your neighbourhood who may also be in need of a mom tribe. It only takes one person to ask and get the ball rolling.
Another option is through friends. I stumbled upon my mom tribe in the most inconspicuous of ways. The boys and I were in Ghana for a few months and because I didn't live there full time anymore, I didn't have many mom friends. I was always struggling to find playdates so I mentioned to a friend about wanting to possibly create a mom-baby playgroup that anyone could join. He told me about his wife's mom group and asked her to invite me the next time they got together. I went to lunch with these wonderful women and loved them and now, I couldn't imagine not having them in my life!
If you are religious, your place of worship is a good place to get social and try to start a mom group. You already have your beliefs as a shared link. This could even double as your prayer group, book club, bible study group, etc. Don't knock it until you have tried it.
MORE ON THE BLOG
I've met moms at the playground and our kids have become friends. Although this hasn't evolved into a mom tribe for me but it could for you. After all, it only takes one conversation to know if you click with a person and if they fit into your idea of what you want in your mom tribe and vice versa.
Your workplace is also an option. If you find yourself working closely with someone who has kids close in age to yours, you can arrange a few playdates and test the waters to see if a mom tribe relationship is in the books for you.

I pray you all can find encouragement and renewed strength in finding your mom tribe and getting some adult conversations back in your life!