How are you with self care as a pregnant mama? If you are anything like me, not very good. Between raising two rambunctious little boys, running businesses and a household, and growing an entire human, you tend to forget that you need to love on yourself too. It is important to practice self care. Even more so while you are pregnant. Your body is doing more work on the inside than it usually does.
Self care during pregnancy MATTERS!
Self care activities can be little and take a minute of your day to self-indulging activities that can take however long you want.
Don't have any ideas? I got you mama!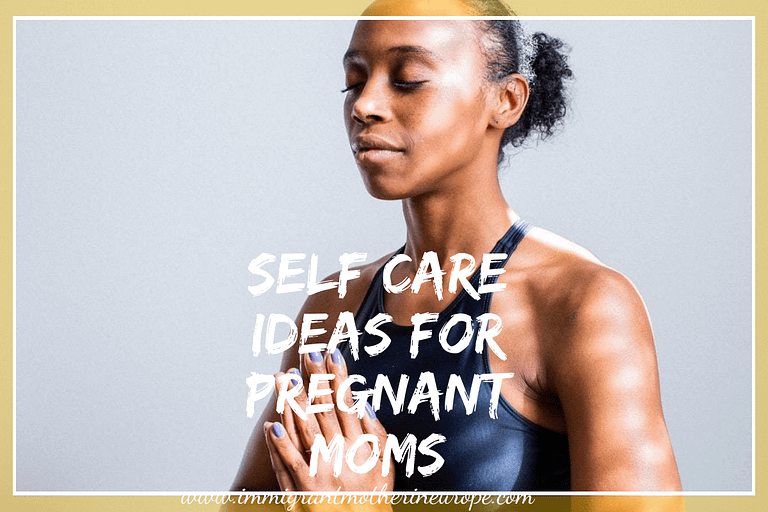 Hydration
Hydration during pregnancy cannot be overemphasized. Water is vital for the proper performance of all organs. Your growing baby and the physical changes taking place require more water intake for a number of processes. Water is used to form amniotic fluid, produce extra blood volume, build new tissue, carry nutrients, help in digestion and flush out your wastes and toxins. Try to drink at least 4 to 6 glasses of water a day to keep you hydrated on the go and less tired while chasing after your little one.
Journal Frequently
Whenever you're feeling overwhelmed or stressed, just write down your thoughts in a journal. The mere act of writing down your thoughts, ideas and worries takes them out of your head and onto something you can clearly see to better address. So write down the things that upset you, make you happy, excited and grateful. Writing down your thoughts and how you feel can help you deal with anxiety and also keep track of your daily activities as well as what you will need to change to make your day better and more fulfilling ??
Write A Blog
Blogs are fast becoming one of the best ways people share their experiences and document their lives. If it will help, start from journaling and then when you feel more comfortable, set up a blog and write there too.
Practice Yoga
The act of yoga helps in controlling your mind, body and soul to help manage stress and anxiety. Read on positions that are safe for a every stage of your pregnancy and try practicing them to help you relax.
Dance to Music Around The House
Sometimes, just buss it down! Put on your favorite genre of music and let it play through the day while you do your chores. You might as well enjoy yourself while sorting out and doing all that laundry.
Take A Long Bubble Bath
Soaking in a bubble bath can be very relaxing and enjoyable. Get some Epsom salts or bath bombs in your favorite fragrance and run a bath. You can catch up on some reading or even watch your favorite sitcom on your iPad while you soak in all that goodness.
Get A Pregnancy Massage
Pregnancy massages help to relax and loosen your muscles, increase blood flow and makes you sleep better. Spoil yourself every now and then and splurge on a massage to improve your mood.
Take A Long Walk
Take some alone time and go for a long walk to give you the time and peace to sort through the clutter in your mind and put you in a better mood when it all gets overwhelming. Be sure to keep to your limits and not overexert yourself.
Practice Mindfulness Meditation
Mindfulness meditation is the practice of being present in the moment. This helps you become more attentive throughout the day and deal with difficult situations better.
Meditation is a way to relax, find your balance and recoup after a tiring day. Many pregnant women have found relief by meditating at the beginning and end of the day to focus on the things that really matter to them. This is a simple, yet powerful pregnancy self-care tip to alleviate stress and help you manage emotions during those heavy hormone fluctuation moments.
Cozy Up And Read A Book
Reading not only gives mental stimulation but helps to reduce stress. You can download books onto your phone or tablet and also get hard copy books that you can read when you have a some alone time.
Binge Watch RomComs
Romantic Comedies, or RomComs, bring out the tears and and laughter and honestly sometimes that's all you need. You can Netflix and chill or stream your favorite romcoms online with a tub of popcorn or snacks.
Be Lazy
Sometimes it's okay to feel like doing nothing and being in bed all day. Give yourself the chance to take a day off everything and just rest. It will help you feel rejuvenated and lighter.
Do Breathing Exercises
Breathe in! Breathe out. Do this for about a minute to clear your head and help you relax when you start feeling overwhelmed.
Take Videos/Pictures
Videos and pictures help us keep memories of certain moments in our lives. Learn to take pictures or videos during the day to lighten up your mood and break out that smile.
Practice Daily Self Affirmations
Affirmations are a form of emotional support or encouragement. Daily self affirmations help boost your confidence and give you a positive outlook on life. Throughout your pregnancy, you need to have the right mindset to prepare for all the ups and downs and changes taking place as you await your baby's big arrival. Pick a phrase to motivate you to overcome your challenges. It can be anything simple and encouraging to remind you of the amazing things your body is capable of doing. Give it a try!