This is your ultimate first trimester checklist. Full of everything you need to take care of in the first trimester of pregnancy.
You are PREGNANT!!!! Congratulations!!!!! (throws confetti) While you handle all the symptoms that come with the first trimester of any pregnancy, it may not be easy to get things done. There is a ton to avoid and to remember to do, what a minefield!
However, there are a few things that are important for a happy and healthy pregnancy. Below is a list of 25 things that I think are vital to a successful first trimester.
25 THINGS TO DO IN THE FIRST TRIMESTER OF PREGNANCY
Take prenatal vitamins
This is actually advisable to do when you start planning to conceive. But if your little miracle sneaks up on you, start as soon as you suspect you might be pregnant. Specifically ones with folic acid.
Tell your partner
This one goes without saying. I never surprised my husband with a cute announcement! Four pregnancies in and I wish I did. Pinterest is a great place to look for some ideas. Try to catch it on camera if you can. You'd never regret you did!
Calculate due date
If you're able to remember when the first day of your last period was, calculate your baby's due date using a due date calculator. It is okay if you don't know. Your healthcare provider will be able to tell you at your appointment.
Stop smoking & alcohol
This goes without saying. Smoking and alcohol use are unhealthy and harmful habits. Even more so when pregnant.
Cut down on caffeine
Did you know that caffeine intake has been linked to many issues during pregnancy? A cup a day should be fine but the less caffeine you have, the better for you and your baby. And no, this is not just for coffee drinkers. Yes tea drinkers, I'm looking at you. There's caffeine in tea too.
Eat healthier
Eating a balanced meal important but it is even more so during pregnancy. Cravings hardly ever fall under the "healthy" category, unfortunately. Make sure you pay attention to eating vitamin rich meals.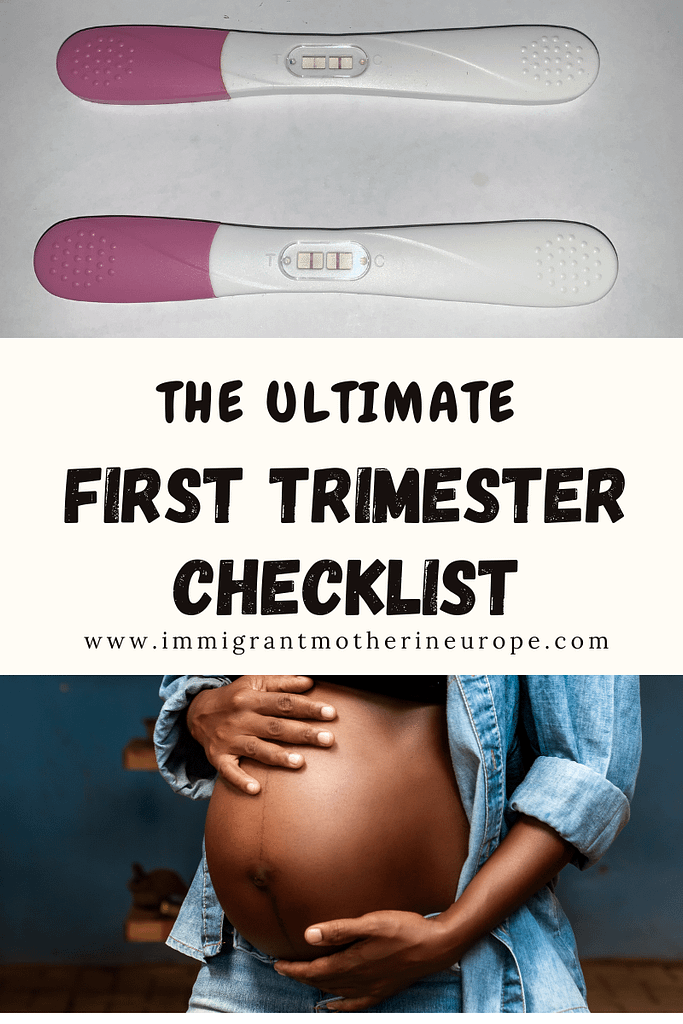 Drink more water
By the end of your pregnancy, you would have approximately 1.5 times more blood in your body than usual, on average. If you are great at drinking water, good job! Try to drink at least a liter a day. If you are one of the few who can't keep anything down, still try to drink tons of water, or try freshly made fruit juices or soda water. Your body needs plenty of hydration to sustain all the changes it is going through. A helpful way to keep track of your water intake is by logging it manually, in an app or by using the "rubber bands on a bottle" trick.
Set up and go to first appointment
Whether you are using a midwife, doula, etc., you still need to schedule appointments to be seen and checked regularly.
Find midwife/ob-gyn
Searching for an OBGYN or midwife can be time consuming, but it's worth it to find someone you trust. In order to make the decision between an OBGYN or a midwife, you need to ask yourself what you're looking for in your care. In some countries, like Denmark, you see your regular doctor and a midwife assigned automatically to you.
Make a list of questions for your doctor/midwife
If this is your first pregnancy, even if it isn't, you might have a ton of questions for your doctor. Make a list of any and all questions you might have so you do not forget any thing when you are at your doctor's appointment.
Know your (& your spouse's) medical history
I cannot emphasize how important this is. Before I was pregnant with my first son, I had no clue my husband had his blood drained and changed at birth because he was born Rh- and his mother was Rh+. Thankfully, and thanks to modern science, we are both Rh+ now and so are our children (I think? Lol)
Be familiar with insurance provider and coverage
If you live in a country where you pay for part or all of your healthcare insurance out of pocket, this is a good thing to know. It is also helpful information to have when choosing where to have your child, which doctor you can have, etc. Since some of these are dependent on who accepts your type of insurance.
Learn to manage morning sickness
If you are as unlucky as I am to experience morning sickness, explore ALL your options before giving up: medication, alternative methods, etc. For most women who experience morning sickness, there is relief after the first trimester. Others, as unlucky as I am, may have to deal with it throughout the entire pregnancy. It is downright uncomfortable and you may be over it long before your due date but find a way to deal with and live with it. Think about the precious baby you get at the end of the journey.
See your dentist
Your dental health changes while pregnant. Our teeth and gums and mouth in general bear some so the brunt of the constant nausea, vomiting and gastric acid. Since you can see a doctor during most of your pregnancy, try to sneak in one last appointment within the first few days/weeks of your pregnancy.
Get more rest
This is something you will come to realize. You will be more tired in the first and third trimesters and have a boost of energy in the second. Take advantage of this sign from your body and rest up as much as you can. There is so much your body is doing in the first 13 weeks to help this new life "stick", that you should try to help make it easier by listening to your body and resting as much as possible.
Cut down on stress
Easier said than done. I know. But stress isn't good for either mom or baby. Try to put your feet up, practice taking deep breaths, drinking calming, pregnancy-safe tea and relaxing.
Have a (light) exercise routine
If you already exercise, that's awesome. If you don't, it might be time to start incorporating exercise into your routine. Start light with a brisk walk every day. Yoga, Pilates and a dance class like Zumba are also great ideas for a budding mama.
Document your pregnancy
It is never too early to start documenting your pregnancy. Options are journaling, writing letters to your unborn child, blogging, to name a few.
Take weekly pictures of baby bump
I felt dumb standing in front of the mirror taking weekly pictures when I wasn't showing yet. And then I was uncomfortable taking them when I was huge. But I came to regret not having weekly bump pictures. Try to document your belly changes weekly if you are the sentimental type.
Decide if you want to announce pregnancy to the world
It may be hard to keep the exciting news to yourself. But you have the whole of the first trimester to decide if you want to share your news with family, friends, the internet, etc. The first trimester is usually an uncertain period and it is usually recommended to wait till the second trimester to announce if you do decide to do so. Of course if you are puking like a storm, that may be hard to do.
Download a pregnancy app
Pregnancy apps are a great way to track the changes in your body and know what to expect on this beautiful journey. I am a pack rat and I usually keep more than a few on my phone. Some options are The Bump, Ovia, Glow and Sprout.
Make a pre-baby bucket list
The first trimester goes by so slowly you wonder if time really moves at all. A fun thing to do to help pass time quicker is to make a pre-baby bucket list. If you have some energy or find yourself in bed and bored with nothing to do and unable to sleep, this might be something to try. Start by writing down the things you know you need to have done by the time the baby comes, that is usually the easiest to do. Next, you can make a list of things you would like to do or places you will like to see that aren't baby- or kid-friendly. Good luck!
Get belly balm
Yes belly balm! Growing a baby means stretching your belly and this mostly comes with stretch marks. A few women are lucky to not suffer this, but majority get some tiger stripes to show for their 10 months of baby baking. Whether you are showing or not, it isn't too early to start keeping your belly moisturized. I swear by pure shea butter. But there are other belly balms out there. Pick one that works for you.
Start budgeting
Babies are expensive. From all the doctor appointments to baby clothes and products to furnishing a nursery, etc., it will be wide to build a budget. In Denmark, it was estimated in 2014 that a child costs on average 1million kroner to raise.
Create a Pinterest board for inspiration
A great resource for planning and researching is Pinterest. Create a Pinterest board, or five, for everything inspirational. Nursery decor ideas, postpartum care, pregnancy announcements… you name it, they got it!